2016 Disaster Response Auction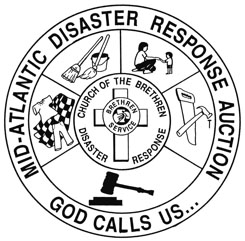 The 36th Annual Disaster Response Auction will be held on May 7, 2016 at 9:00 a.m. at the Carroll County Agricultural Center – Shipley Arena in Westminster, Maryland.
In 2015, $58,000 was given to the Emergency Disaster Fund of the Church of the Brethren
to help victims recover from many disasters all around our world.
During 2015 the Emergency Disaster Fund supported these efforts:
• Shalom Ministry (D. R. of Congo)
• Nigeria Crisis Response
• Cyclone Pam Response: Vanuatu
• Toms River, NJ – Rebuilding Project
• Northeast Colorado Flood Recovery
• Spotswood, NJ – Rebuilding Project
• Iraq-Iran Humanitarian Crisis
• Heifer Intl., LWR – Nepal Earthquake
• Shalom Ministry – Burundi Refugee Crisis
• Naturalization of Ethnic Haitians in Dom. Rep.
• Dominican Republic Church of the Brethren
• Disaster Recovery Support Initiative (DRSI)
• Maryland Eastern Shore Hurricane Sandy Recovery
• ACT Alliance-Europe Refugee Crisis
• Myanmar Flooding Response from Cyclone Komen
• Flooding Response, Siguatepeque, Honduras
Put May 7th on your calendar!
Come to the auction and invite your friends…together we can make a difference to many people near or far recovering from disasters.
> Ad Form for Churches
> Bulletin Insert
> Letter to Churches
> Patron Ad Page
> Special Items Poster