Links From Around The District
Summer Camp 2015 Register Now!
Just in time for Christmas Giving!
Bethany Peace Essay Contest
Peacemaking, Creation Justice, and Beloved Community
For High School, College, Seminary, and Graduate School Students.
Deadline: January 26, 2015
For guidelines and more information go to
www.bethanyseminary.edu/peace-essay
Hashawha Environmental Appreciation Center, Westminster, MD
January 23 - 25, 2015
Leaders: Eric Landram, Jennifer Quijano, and Jenn Scarr
Registration deadline: January 8, 2015
Cost: $70.00 per participant
Help us kick off the New Year!!!
Shepherd's Spring Outdoor Ministry Center
Sunday, Jan. 25th From Noon – 4:00PM
Enjoy all the fixings, Carry out is available.
Cost $12.00 per person.

Getting to the Heart of God's Design
Frederick Church of the Brethren
Saturday, January 31, 2015
8:30-5:00
Do not miss this awesome event for married couples or any couple considering marriage.
This conference helps us understand God's purpose and plan for a healthy marriage and gets to the
very heart of God's design for marriage in a fun, engaging, ground-breaking way.
April 6, 7, 8, 9 (10 labeling only)
Sponsored by:
Southern District of PA &
Mid-Atlantic Districts
For the 38th year, the Mid-Atlantic and Southern PA Districts are co-sponsoring a Meat Canning project which previously has enjoyed a generous response and enthusiastic support. We will continue the abbreviated schedule as we monitor funds for the project. The project is scheduled for April 6th thru April 9th (FOUR DAYS), with April 10th reserved for labeling only, at the Christian Aid Ministries facility. The 2015 Meat Canning goal is to can approximately 45,000 pounds of chicken in four days of processing.
Healthy Boundaries 201- Beyond Basics,
A Course for Clergy and Spiritual Teachers
with
Rev. Ed Poling
Saturday, April 25, 2015
Goals: To increase awareness of the need for healthy boundaries in the clergy-congregant or teacher- student relationship. To provide clergy and spiritual teachers with guidelines and suggestions for developing appropriate boundaries and necessary self-care strategies. To illustrate the impact of appropriate vs. inappropriate boundaries in promoting effective ministry.
Location: Mid-Atlantic District Office
Brethren Service Center, 500 Main Street
New Windsor, MD 21776
Office Phone: 410-635-8792 (district office)
Biblical Approaches to Spiritual Life
Susquehanna Valley Ministry Center
Continuing Education Series
Led by Bob Neff and Christina Bucher
April 29, 2015 • 9:00 am - 3:30 pm
Elizabethtown College, Susquehanna Room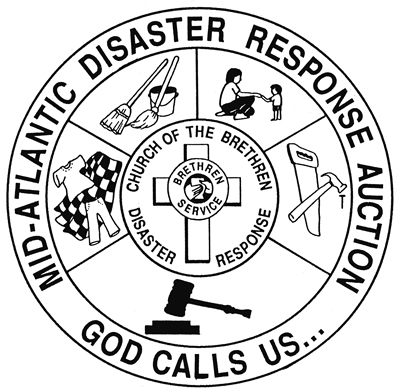 2015 Disaster Response Auction
The 35thAnnual Disaster Responce Auction will be held on May 2, 2015
at 9:00 am at the Carroll County Agricultural in Westminster, Maryland.
Last years auction raised $65,000
$65,000 was given to the Emergency Disaster Fund
of the Church of the Brethren
to help victims recover from many disasters
all around our world.
During 2014 the Emergency Disaster Fund supported these efforts:

Nigeria Crisis Fund
Superstorm Sandy recoveery in New Jersey
Typhoon Haiyan response in the Philippines
Ebola response in Liberia
Flood response in Honduras
Tropical Storm Iselle in Hawaii
Flood response in the Balkans
50-day War relief in Gaza
Thank you for your support of our Disaster Response Program !
There are many ways you can help to make the auction a success:
Letter to Churches
Add Form for Churches
Bulletin Insert
Patron Ad Sign Up Sheet
Special Items Poster