Links From Around The District
"May our Lord Jesus Christ himself and God our Father,
who loved us and by his grace gave us eternal encouragement
and good hope, encourage your hearts
and strengthen you in every good deed and word,"
2 Thessalonians 2:16-17
Darlene Meyers and I, Linda Lambert, have been meeting together
for prayer and spiritual discernment.
We have been greatly encouraged through God's Word, especially
2 Thess. 2:16-17.
We are inviting others to gather with us for Worship, Prayer,
Listening to God's Word and watching for the movement of the Holy Spirit.
Habitat for Humanity of Washington County
By undertaking Sponsorship of a Habitat house, our group is taking on a exciting task: raising money to help finance a Habitat home and building a home in partnership with the family who will live there. It is a task that is both challenging and rewarding and most important, it is a task that will make a real and lasting positive impact on the community.
Healthy Boundaries 201- Beyond Basics,
A Course for Clergy and Spiritual Teachers
with
Rev. Ed Poling
Saturday, April 25, 2015
Goals: To increase awareness of the need for healthy boundaries in the clergy-congregant or teacher- student relationship. To provide clergy and spiritual teachers with guidelines and suggestions for developing appropriate boundaries and necessary self-care strategies. To illustrate the impact of appropriate vs. inappropriate boundaries in promoting effective ministry.
Location: Mid-Atlantic District Office
Brethren Service Center, 500 Main Street
New Windsor, MD 21776
Office Phone: 410-635-8792 (district office)
Saturday, April 25, 10:00-3:00
Woodbridge Church of the Brethren
Dana Cassell, Retreat Leader
Biblical Approaches to Spiritual Life
Susquehanna Valley Ministry Center
Continuing Education Series
Led by Bob Neff and Christina Bucher
April 29, 2015 • 9:00 am - 3:30 pm
Elizabethtown College, Susquehanna Room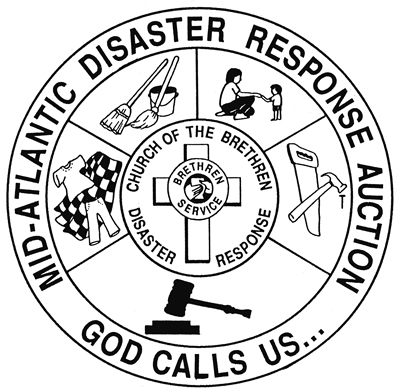 2015 Disaster Response Auction
The 35thAnnual Disaster Responce Auction will be held on May 2, 2015
at 9:00 am at the Carroll County Agricultural in Westminster, Maryland.
Last years auction raised $65,000
$65,000 was given to the Emergency Disaster Fund
of the Church of the Brethren
to help victims recover from many disasters
all around our world.
During 2014 the Emergency Disaster Fund supported these efforts:

Nigeria Crisis Fund
Superstorm Sandy recoveery in New Jersey
Typhoon Haiyan response in the Philippines
Ebola response in Liberia
Flood response in Honduras
Tropical Storm Iselle in Hawaii
Flood response in the Balkans
50-day War relief in Gaza
Thank you for your support of our Disaster Response Program !
There are many ways you can help to make the auction a success:
Letter to Churches
Add Form for Churches
Bulletin Insert
Patron Ad Sign Up Sheet
Special Items Poster
Disaster Auction Needed Ad
Theme Baskets Ad
Annual Benefit Dinner


Sponsored by the Council of District Executives of the Church of the Brethren.
This event is designed for congregational leaders to network with each other
while obtaining tools and resources to develop strong, vital, healthy congregations;
prepared to participate in the mission of God in their communities.
Fellowship Church of the Brethren
Martinsburg,WV
Sunday Night, May 17 2015
6:00pm
Free Admission
An event sponsored by the MAD Youth cabinet for
EVERYONE in the Mid-Atlantic District
 of the Church of the Brethren (MAD COB)
Memorial Day
May 25th, 2015
1:35pm
We have reserved seats in 
Sections 87(left Field lower level)
At $15 each
(If more than 250 sign up, we get an on-field presentation during the game)
Registration deadline – May 4th, 2015!!!
Orioles BBQ apron give-away to the 1st 20,000 fans age 15+
Seating is on a first-come, first-served basis.
This past year the Orioles changed their group plan package which made it tough for us to do a weekend game.  These seats provide a lower section to make it easier for people to get in and out of.  If needed, we can order tickets for the upper section 318/322 at $8 a ticket.  Once the lower section is filled and we have demand for more, those seats will be in the upper deck.
Monday, June 15, 2015
Black Rock Golf Course
20025 Mt. Aetna Road
Hagerstown, MD, 21742
This is your chance to enjoy a day of Friends, Fellowship and send Kids to camp!
Proceeds of the Tournament benefit Shepherd's Spring Camper Scholarships.
Susquehanna Valley Ministry Center
& Church of the Brethren Office of Ministry
present
The Difference that Makes a Difference
with Dr. Don Booz
Saturday, August 22, 2015
Nicarry Meeting House
The Brethren Home
New Oxford, PA
Springs of Living Water is happy to announce that there are two academies for pastors and ministers scheduled in the coming months. We are now receiving registrations for the Fall 2015 course. Beginning Tuesday, September 15, from 8 to10 am ET, the Foundations of Church Renewal course will be offered with five conference call sessions held over a twelve-week period.
Then beginning Saturday, February 20, 2016, from 8 to10 am ET, the Foundations of Church Renewal course, with a bi-vocational component, will be offered in a similar twelve-week component.
In the academies, pastors participate in spiritual disciplines folders, offered from the Springs of Living Water initiative. Using a guided syllabus, pastors take a full course in a spiritually oriented, servant-led course for ongoing renewal of a church using the book Springs of Living Water, Christ-centered Church Renewal written by the teacher David Young.  In the academies, people from the congregation walk along with the pastor, using the disciplines folder and sharing with the pastor.
David and Joan Young founded the Springs of Living Water Initiative in Church Renewal ten years ago in the Church of the Brethren.  An interpretative DVD produced by David Sollenberger is at the top of the Springs website at www.churchrenewalservant.org. For more information you may email davidyoung@churchrenewalservant.org or call 717-615-4515.