Links From Around The District
Saturday, May 18, 2013
7:00 PM
You're invited to the Hagerstown Church of the Brethren,
for an evening of music presented by the Calvary Youth Choir
from Calvary United Methodist Church, Mt. Airy, Maryland.
Concert is free and the public is welcome.

National Junior High Conference
Elizabethtown College, Elizabethtown, PA
June 14 - 16, 2013
For more information or to register click hear.
Maryland National Golf Club, Middletown, MD
Monday, June 17, 2013
9:00 am Shotgun Start, 4-person scramble
$95 per golfer
Golfer Letter
June 29th - July 3rd, 2013
Charlotte, North Carolina
We have 250! reserved seats in
sections 348 & 352
at $6.00 each
Registration deadline – June 12th
sponsored by the MAD Youth cabinet for
EVERYONE
Summer Term
July 22-26, 2013
Elizabethtown College
Elizabethtown, PA
"So then faith comes from hearing, and hearing
by the word of God" Romans 10:17
Sponsored by the
Brethren Revival Fellowship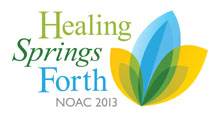 September 2 - 6, 2013
Lake Junaluska Conference & Retreat Center
Lake Junaluska, North Carolina