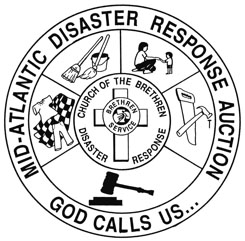 40th Annual Disaster Response Auction
Saturday, November 13, 2021

Carroll County Agricultural Center
700 Agricultural Center Drive
Westminster, MD  21157
Thank you for your support of the Mid­ Atlantic District Disaster Response Auction by placing an ad in last year's 2020 Auction Booklet. With the 2020 Auction cancelled due to the pandemic, the auction booklet was not used. Planning is underway for the 2021 Auction to be held on November 13 at the Carroll County Agricultural Center in Westminster, Maryland. In an effort to be good stewards, the auction committee has decided to make use of last year's booklet, adding supplemental pages specific to the 2021 Auction.
7-9:30am             Breakfast
9am                     Outside Auction: tools, lawn and garden, household and general items
9:30am                Special Items Auction:  including antiques and collectibles, art and jewelry
10am                   Food booths open; child care available 10am-2pm
10:30am              Lunch
12pm                   Quilt and Comforter Auction
Terms: cash, check, or credit card; ATM machine located in Shipley Arena.
Your purchase has purpose.  Auction proceeds go to the Church of the Brethren Emergency Disaster Response Fund to send trained volunteers to help disaster victims with child care and to repair and rebuild after natural disasters that occur within the United States.  Overseas relief includes food, water, shelter and medicine. For more information call 443-960-3052.
2021 Disaster Auction Booklet
In 2020, even after the Disaster Response Auction was cancelled, enough money was raised through the booklet, plant sale and additional donations that $36,000 was given to the Emergency Disaster Fund of the Church of the Brethren to help victims recover from disasters all around our world.
You can support Disaster Response in various ways:
Prayer
Donate as a Patron, Supporter or Sustainer for as little as $10 and get your name printed with your church in the Auction booklet.
Purchase church, business, or personal ad space in the Auction booklet – Full page ($160 Black/$200 Color), Half Page ($85 Black/$105 Color), Third Page ($60 Black/$75 Color) and Eighth Page ($25 Black/$35 Color). Check with your church office for info.
Make quilts, comforters and wall hangings or other handcrafts to sell.
Donate special items such as high quality woodwork, paintings and artwork. Antiques, furniture and collectibles also are a valuable donation.
Encourage your church group or children's Sunday School class to collect items to make special gift baskets, school bags full of new books, etc. to auction off. Get creative!
Contribute a gift certificate from your business for the auction.
Donate quality auction items (value of $10 or more) such as craft items, food, baked goods, flower and vegetable plants, trees and shrubs for booth sales.
Groups and individuals can sponsor special events such as plays, dinners, and musical presentations to raise and provide monetary gifts to the auction.
Volunteer to help at the Auction.
Volunteer to go out on a project to help people recover from disasters.
– Decide now how you can help!
During 2019 the Emergency Disaster Fund supported these efforts and more:
Puerto Rico Hurricanes Rebuilding Project
• Carolinas Hurricanes Rebuilding Projects
• Midwest U.S. Flooding and Tornadoes
• Southern Africa Cyclone Idai
• Nigeria Crisis Response
• South Sudan Mission Relief Program
• Hurricane Dorian Bahamas Response
  Democratic Republic of Congo, Shalom Ministry
• Jacksonville, Florida, Hurricane Rebuilding Project
• IMA World Health – Ebola Response
• Typhoon Hagibis Japan – Support for vulnerable families
Disaster Recovery Support Initiative
Thank you for your continued support of our Disaster Response Auction!
Downloadable Forms
Auction Booklet listing form 2021